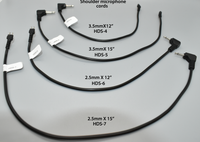 "NEW" Shoulder Microphone cords for 2-way radios
These cords are designed to work with all models of shoulder microphones to connect to our audio clarifiers.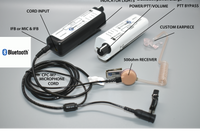 "NEW" 201-M for cell phone with BLUETOOTH connection monitoring or 2-way communiction
This new amplifier can be used for the broadcast industry or Fire,Police, & EMT if they need to monitor connections on the cell phone. It connects via bluetooth or male to male cord connection. A "double button" can be purchased if you want to receive two signals in one ear without either one interfering with each other.
Ear Piece Insertion Video Tutorial
Contact Details
Audio Implements/GKC
1703 Pearl Street
Waukesha, WI. 53186 USA
Phone: (262) 524-2424
Fax: (262) 524-7898
info@audioimplements.com
Open Monday - Thursday
8am - 4pm CST (USA)
Contact Us